Club/District News/Stories
We in the District LOVE to hear about what is going on in all of our clubs and within the District.   Clubs may submit their stories via DACdb's Club Stories and SHARE to the District.  If you need additional information and instructions of how to add and save ezStories in DACdb, please go to:   https://rotarydistrict6460.org/wp-content/uploads/Forms/Training/CreateStory.pdf
Macomb Rotary Mini Community Project
Monday, October 12, 2020
By: Debby Dallefeld
Rotary Club of Macomb , recently worked on a mini community project.
Members colored a picture from a coloring book, signed the picture and included a note to the student.
Read More
---
EAST ALTON ROTARY SCHOLARSHIP HELPS STUDENTS LEARN MORE ABOUT COMMUNITY SERVICE
Monday, October 12, 2020
By: Lori L. Palmer
The East Alton Rotary Club continues to help students from two local school districts even during a pandemic. The Club's foundation has been able to raise and sustain money to be given to students in two local districts for many years. This year will be no different.
Each year the club presents to roughly 25 students from the East Alton – Wood River School District, and 25 students from the Roxana School District. The Youth Service Director goes and presents to these students what Rotary is, how we help our community, and tell the students more about the scholarship that is available to them. After the presentation the students go through an interview process, and two juniors are selected from each school. The students are in the scholarship program for two years.
During the student's junior and senior year, they learn more about Rotary, their community, and the importance of volunteering. The scholarship recipients are students who excel in other areas besides academics. The students receiving a Rotary Scholarship will be mentored by the East Alton Rotary Club. This involves the student's participation in activities such as luncheons, special tour meetings, helping with the annual chili dinner, the annual basketball tournament, golf tournament, the soap box derby, the Halloween parade, and other volunteer opportunities.
There is a base amount to the scholarship, but the students can earn more scholarship money by helping the Rotary club volunteer with different community service projects. They also receive more scholarship money if they get on the honor roll and/or have no unexcused absences as an incentive to focus on their academics. The scholarship is paid upon graduation and enrollment to a post-secondary school. The post-secondary school can be for Career & Technical Education, Community College, or a College or University.
The East Alton Rotary Club is excited to continue on this year by doing things a little different. It is important for us as a club to instill a sense of community pride in our students.
---
Macomb Unveils 100th Anniversary Project
Monday, October 12, 2020
By: Jerry R. Brookhart
ON THE TRAIL:
Financial concerns with high percentage of houses for sale and scaled back local university attendance, there is a need to attract tourists to our community to support our local businesses. Our area has long been labeled "Forgottonia". A local Western Illinois University artist had the idea of an Abraham Lincoln statue with a topiary beard. The idea was to highlight our community's historical connection to Lincoln, who had visited our city twice during his Presidential campaign in the 1858 without a beard. He later grew a beard after winning the US Presidency in 1860. The local Macomb Area Convention and Visitor's Bureau started looking for financing for this project, expecting to take a few years to raise the necessary funds.
Read More
---
Peoria Rotary Donates a "Story Walk"
Monday, October 12, 2020
By: Thomas Allan McIntyre
The Rotary Club of Peoria, Illinois has continued its long tradition of dedication to education by donating a StoryWalk® to the grounds of the Lincoln Branch Library on Peoria's south side.
Read More
---
Rotary 6460 Foundation Update - September 2020
Saturday, October 10, 2020
By: Brian Barstead
At this point, we have committed most of this year's District Grant of over $55,000. 15 clubs applied and were approved for Grants to help with their projects and one club is making some changes to its grant request so it should be approved soon, but not in time for this update. Nearly $40,000 of our Grant money will go to Club Grants this year. We also were able to provide $3,000 to five worthy college students from the area who were interviewed in July by our District Scholarship Committee. Nice going!
Read More
---
District 6460 Sponsors Computers for Progress International Project
Thursday, July 23, 2020
By: Stephen Rodger Hopper
District 6460 is giving our Rotary Clubs and Rotarians the opportunity to participate in an international project to provide a total of 35 computers to three middle schools in Progreso, Yucatan, Mexico. This exciting project to provide computer literacy was selected from approximately 200 proposed projects in the 100 in 100 initiative, celebrating 100 years of Rotary in Mexico. We are seeking to raise $10,775. The size of the project precludes the ability to qualify for Global Grants.
I will be providing additional information in the coming weeks. One of the schools is Carlos Marx Middle School, which is the oldest middle school in Progreso. 600 students attend classes in the morning and 300 students in the afternoon.
Our District has been participating in a number of Global Grants along with the majority of Districts in Zones 30-31 that provide for improving the quality of life through such services as kidney transplants, pacemakers, provision of hospital equipment, clean water, and education for impoverished people in Mexico City. The 100 in 100 project expands the area served to all seven Rotary Districts in Mexico.
Contributions may be sent to:
Bill Smith, Treasurer
Rotary District 6460 Foundation
800 Wythe Road
Springfield, IL 62702-3351
For additional information about this project or opportunities to have your Club sponsor one of the other possible projects please contact PDG Steve Hopper, retiredhopper@gmail.com or at (309) 333-0375. I am also willing to speak to your Club about Heart 2 Heart and the 100 in 100 program if you wish.
---
Rotary District 6460 Scholarship Recipients
Monday, July 20, 2020
By: Lynn R. Coers
Haley Nieuwkoop from Manito, Kenna Armstrong from Oquawka, Lauren Stidham from Jacksonville, and Sophia Roth from New Berlin were each winners of $3,000 scholarships from Rotary District 6460. The process included submitting an application and then being selected for an interview. The interviews were held on July 11 in Jacksonville, IL.
Read More
---
Frisbee Golf Tees at LaVista Park
Thursday, September 17, 2020
By: Larry L. Thompson
The Rotary Club of Alton-Godfrey applied for a Rotary District 6460 grant last summer 2019, but because of the Covid-19 pandemic, the project could not be completed in the spring as planned. This summer, club members, Village of Godfrey workers, and local business members gathered on several mornings to install concrete tee pads for the new 18 hole Frisbee Golf course at LaVista Park in Godfrey. The project will soon be completed and the course is already being used by the community.

The following was recently reported in The Advantage. "Tempertures in the 90's did not deter Alton Godfrey Rotary members who gathered Tuesday at LaVista Park to lay disc golf tees. Club members Bill Moyer, Dennis Wilson, Tim Hinrichs and Jim White scraped, dug, leveled and packed the tee areas on Tuesday in prep for laying concrete. Disc golf player Tracy Smith and Jason Enos of Smart Choice Auto joined club members to work on the project. Village of Godfrey's Doug Schnur manned the front loader. Alton Godfrey Rotary and local businesses are contributing funds and materials."

Each year Rotarians contribute to The Rotary Foundation for the purpose of "doing good in the world." These funds are invested by Rotary International for three years with the investment proceeds used along with member annual dues to fund the operation of the organization.

After the three year investment, these funds are returned to each District as District Designated Funds to be allocated to purposes chosen by each district. One of the choices of Rotary District 6460 is Club Grants. This is the grant program the Rotary Club of Alton-Godfrey participates in annually. In addition to the club raising and contributing funds to The Rotary Foundation, the club budgets a matching amount for the project. Many previous projects are described on our website and most of the club's projects in its 99 year history have been fully funded by the club's fund raising efforts.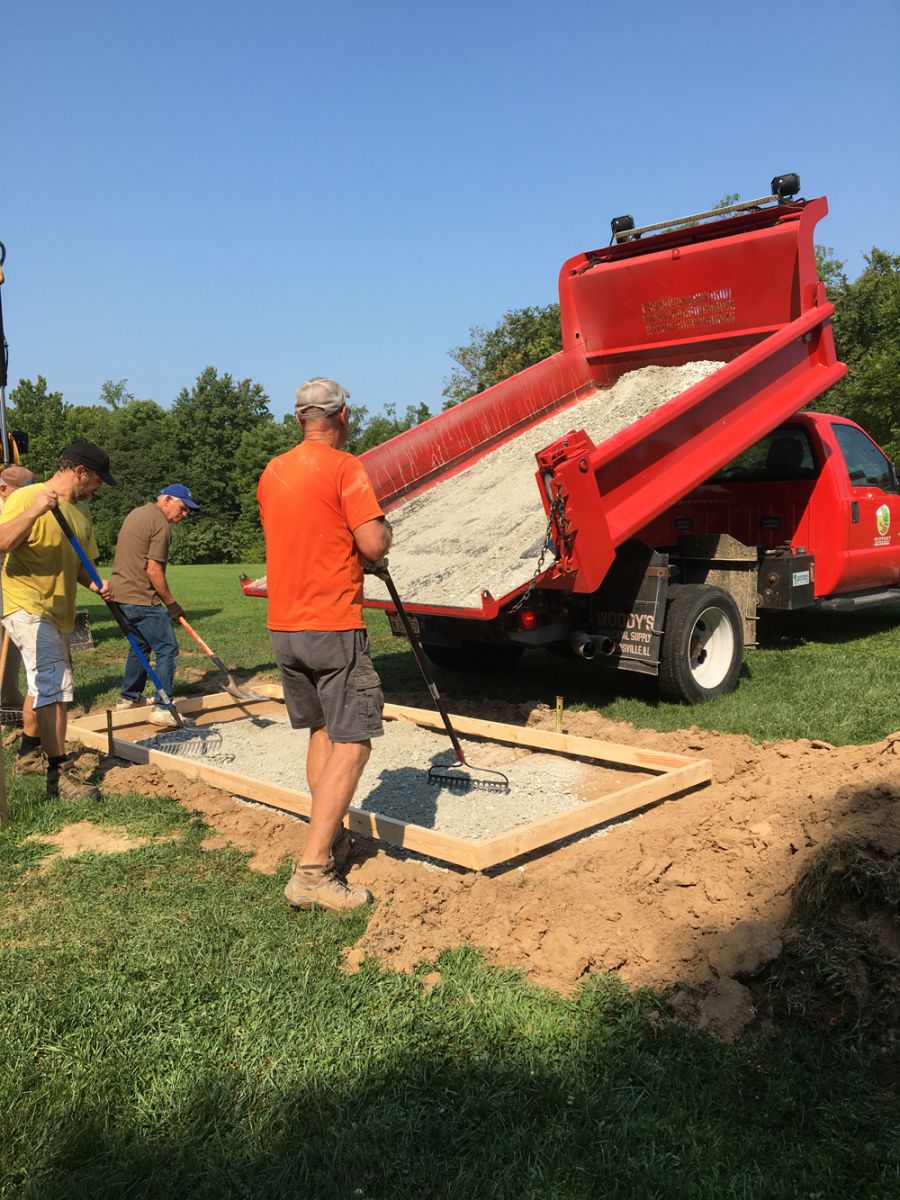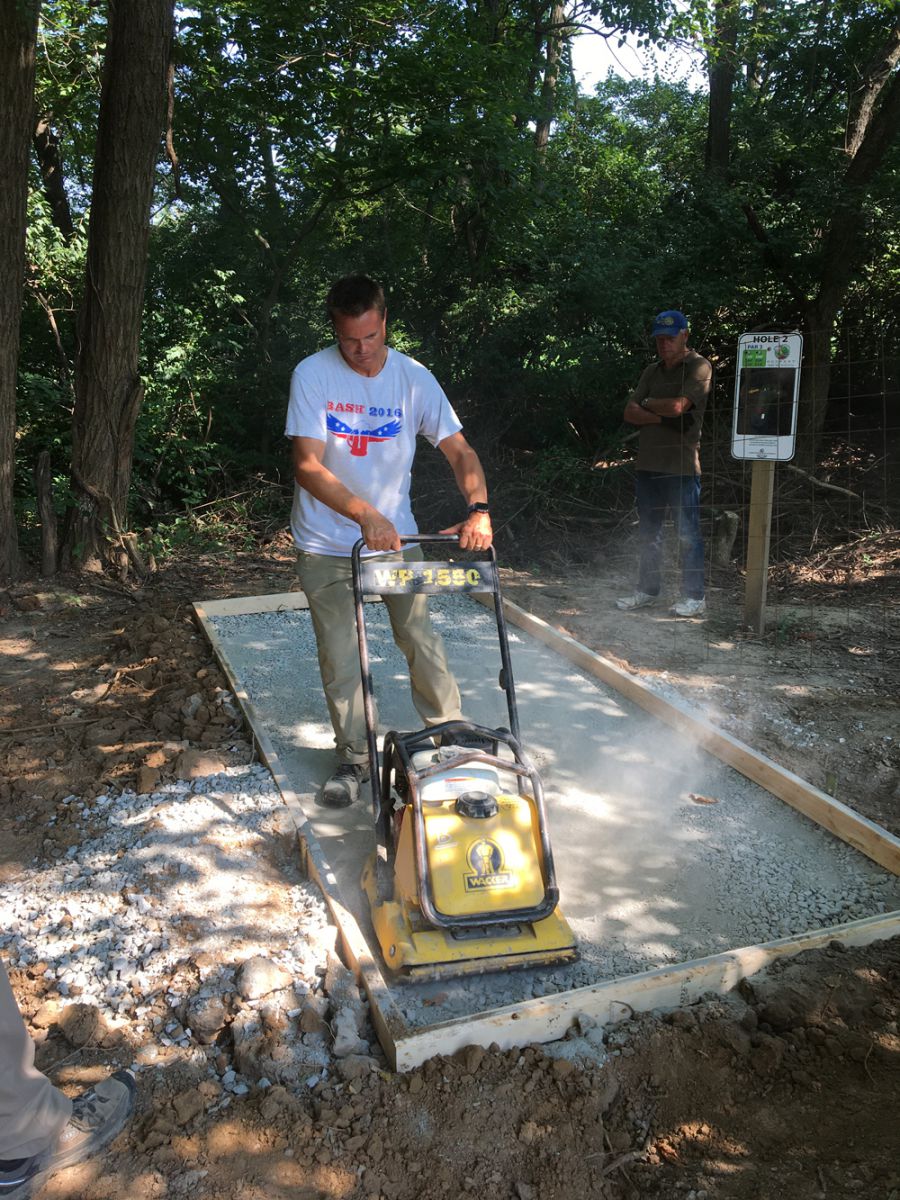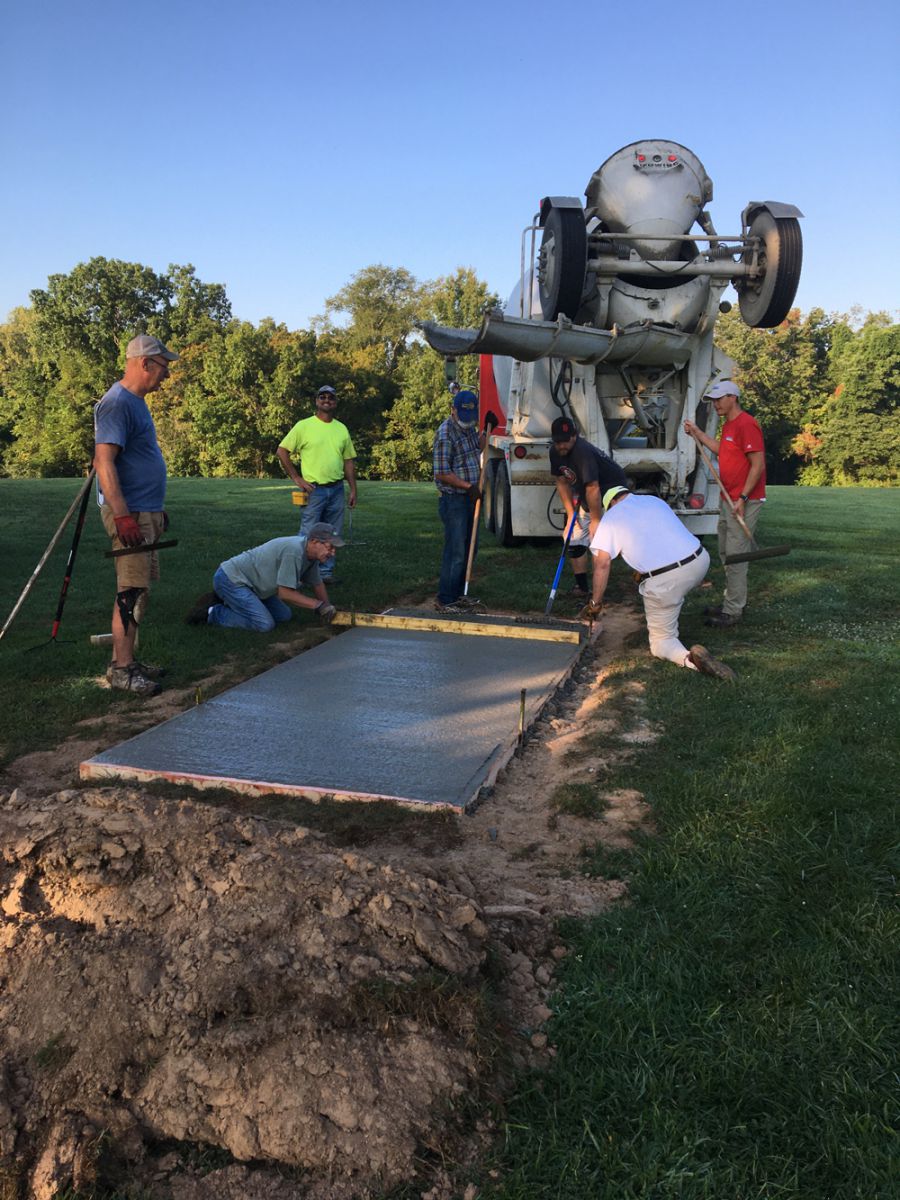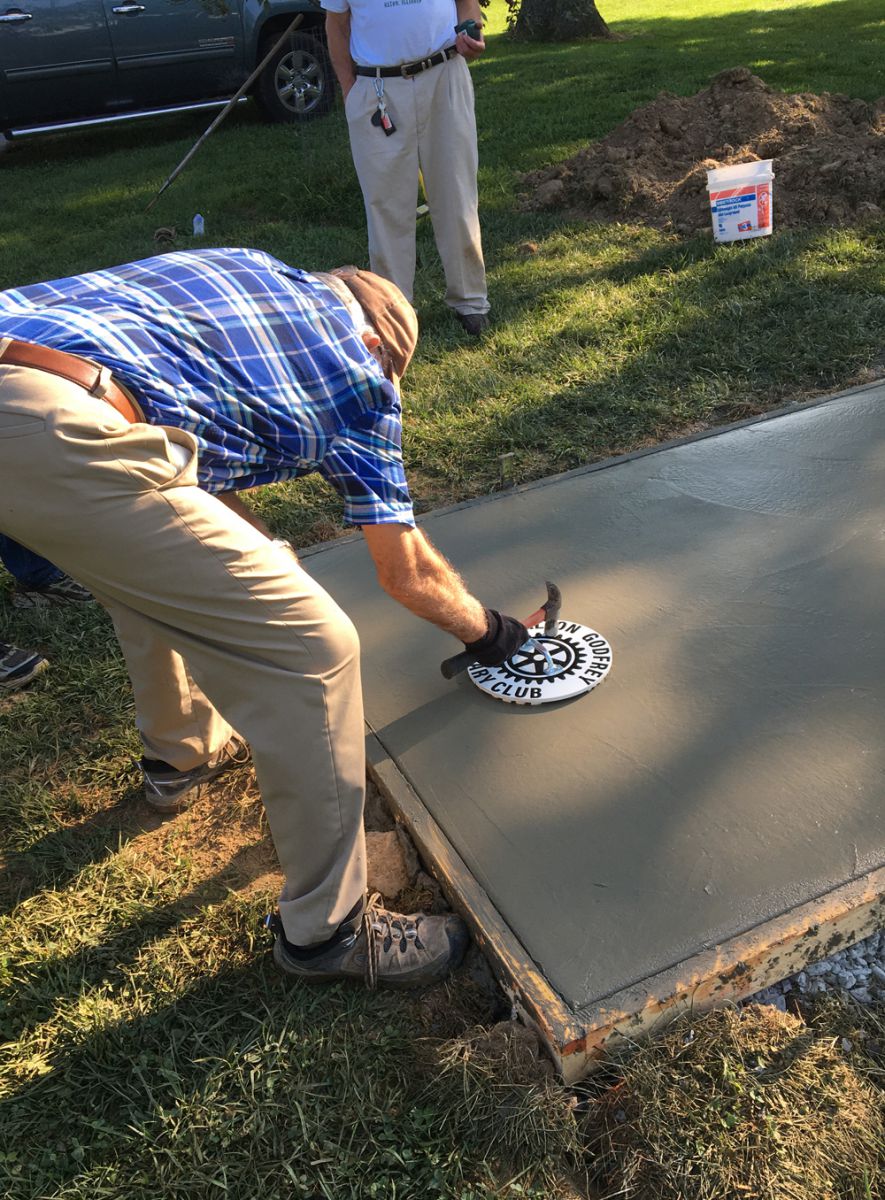 ---
District Newsletter – "4-Way Today"
District Events