100 in 100 Program Offers International Projects to District 6460 Rotary Clubs
Tuesday, January 21, 2020
By: Stephen Rodger Hopper
Since 2004, the Heart 2 Heart Program has successfully built international partnerships and friendships between "The Heart of America" (Zones 30-31) and the "Heart of Mexico" (Districts 4170 and 4140). Numerous Global Grants (over $30,000 each) have allowed for significant quality of life improvements such as kidney transplants, pacemaker implants, potable water tanks, and educational programs.
I am pleased to announce that our District 6460 Rotary Clubs have the opportunity to select from over 150 potential international service projects in celebration of 100 years of Rotary in Mexico in April of 2021. The idea is to build international relationships between US and Mexican Rotary Clubs by the completion of projects of much smaller scope, between $500 and $10,000. All Rotary, Rotaract and Interact Clubs in Mexico have been invited to submit proposed projects for consideration. Each submission has been reviewed by a Coordinator in each of the seven Rotary Districts in Mexico, as well as a US Heart 2 Heart "Coach." The projects are now ready to share with our US Rotary Clubs in our Zone 30-31 Rotary Districts and beyond. There is a wide variety of projects available. The projects will be selected on a first come, first serve basis. The information you review will be in English. Once matches are made interpretation services will be available, if necessary.
I encourage you to go to the Rotary Zone 30-31 website (rizones30-31.org), click on the "news" tab and then select 100 in 100 for additional information and to download a listing of the available projects. Feel free to contact me, PDG Steve Hopper, wi (retiredhopper@gmail.com) with any questions you may have. I am willing to speak to your Club about this opportunity and/or cover the most recent "Annual Pilgrimage" I made to Mexico City in November.
---
Ralph Gilmore receives Paul Harris Society pin
Tuesday, November 26, 2019
By: Ralph Lawrence McAuley
Long-time Rotarian, Ralph Gilmore, of the Rotary Club of Aledo (Illinois) received his Paul Harris Society pin on 7 November 2019.

About once a month the Rotary Club of Aledo has been meeting at Ralph's home so he can enjoy the fellowship of our small club.

We thank Ralph for his many years of faithful service in the Club, his church, the community of Aledo and beyond. He has impacted many lives through his gentle spirit and faithful service. Thank you, Ralph
---
35th Annual Chili Chowdown
Thursday, January 16, 2020
By: Larry L. Thompson
The Alton-Godfrey Rotary Club's 35th Annual Chili Chowdown is set for Monday, March 2, at Main Street United Methodist Church in Upper Alton. The popular fund-raising event features award winning all-you-can eat chili, beverage, and dessert for just $8.00. Serving hours are 11 a.m. through 1 p.m. and again 4:30 p.m. through 7 p.m. Diners may eat-in or carry-out.
The secret Rotary chili recipe is guarded by event chairman Dennis Wilson. He says the recipe originated with the late Don Johnson, proprietor of DJ's Bar and Grill in Upper Alton. Members of the Alton-Godfrey Rotary Club prepare and serve the chili. Over the years the Chili Chowdown has been held at a number of venues, but in recent years has settled into its home at Main Street United Methodist Church which affords ample parking and plenty of room for diners.
Tickets for the annual Chili Chowdown are available from any member of the Alton-Godfrey Rotary Club and will also be sold at the door. In addition, there will be a 50/50 raffle conducted during the day. The annual event raises funds for local Rotary projects, including the annual scholarships given in conjunction with the club's Student of the Month program and to a student of industrial arts at Lewis and Clark Community College.
The Alton-Godfrey Rotary Club was chartered by Rotary International on March 1, 1921. Since that time the club has served the Alton and Godfrey communities by exhibiting Rotary's motto of "Service Above Self." Many notable projects has been completed over the years, including a picnic pavilion at Haskell Park, the Steamboat Mural at Broadway and Henry Streets, the statues of Lincoln and Douglas at Lincoln-Douglas Square, the Wadlow Statue, numerous fountains including the current fountain at State House Circle, a Habitat for Humanity House, the greenhouse at the Community Supported Garden, the annual Community Christmas Tree, and many more.
Those interested in learning more about the Alton-Godfrey Rotary club may visit the club's website at www.altongodfreyrotary.org. The club meets Monday evening's at 6 p.m. in the meeting room at Gentelin's, except for the 3rd Monday of the month when the meeting is often held at other locations. Visitors are welcome.
---
DISTRICT VOCATIONAL TRAINING TEAM RETURNS FROM ZAMBIA
Tuesday, November 12, 2019
By: John P. Gibbons
District Vocational Training Team Returns From Zambia
Last November, 2018, a District Rotary Vocational Training Team (VTT) flew to Zambia in Africa for 3 weeks and taught 11 local small farmers near Chongwe village improved methods for growing corn. The VTT Project was financed with our District DDF funds matched by a Rotary Foundation Global Grant. The Team was led by farmer PDG Eric Dolbeare, with team members retired agronomist John Meece, and AgriGold Regional Agronomist (and farmer) Todd Steinacher. While there, the VTT Team worked with the Nkwazi Rotary Club in Lusaka, and with African Vision of Hope, a charitable organization that has five K-12 schools and its own farm in Zambia.
The Team found that small farming methods there are primitive, comparable to farming in Illinois 100+ years ago. Many of the farmers have only a hoe as their primary farm implement. The VTT Team helped these farmers improve their production by the proper implementation of modern growing procedures and equipment such as, hybrid corn seed, proper fertilizers, crop protection chemicals, a hand sprayer, and an ox-drawn planter/fertilizer machine. .





Members of the VTT Team and VTT Chair Lee Malany and his son returned to Zambia several times to assist the farmers while the crops were growing, and then returned again after the harvest in May, 2019 to measure the crop yields. The results were spectacular – despite suffering from a severe drought, the participating farmers' VTT method crop was on average 230% better than their traditional crop.
Our VTT Program has been successful, assisting local people in Zambia to grow more food to feed their families and neighbors in a country where 40% of the people do not have enough food to eat and many children die of starvation. The participating farmers have all agreed to continue the new way of farming, and to show the methods to at least 3 of their neighbors. Our District needs to sustain and spread the benefits of our VTT program throughout Zambia. The District VTT Committee has plans in place for VTT Team members to return to Zambia this Fall to teach their program to 30 more subsistence farmers, and to continue in successive crop years until they attain a cadre of 100 to 150 trained and experienced farmers in the Chongwe area. Then a co-op can be formed so that group of farmers can join together for mutual assistance, equipment, purchasing, operational and marketing support.
Our District Governor and District officers have allocated $15,000 of District funds, and several clubs in the District have also pledged contributions to this second crop- year program. URGENT NEED - Please consider making a contribution to help send our VTT Team to Zambia this November to help with the cost of this year's crop and training – contact Global Grants Chair John Gibbons at jgibbons220@gmail.com or VTT Chair Lee Malany, lmalany@juno.com. Plans are also being made for a long-range program to continue and spread this worthy program throughout Zambia.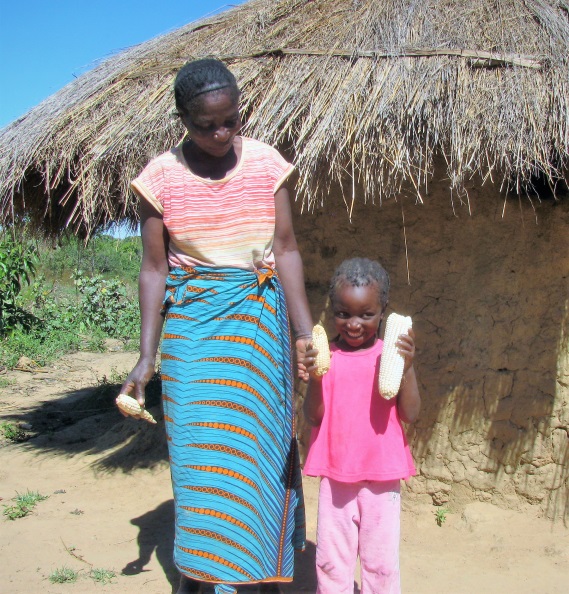 In the above photographs the corn on the left was grown by their traditional method, and the corn on the right was grown by the VTT Team method.
---
District Newsletter – "4-Way Today"
District Events